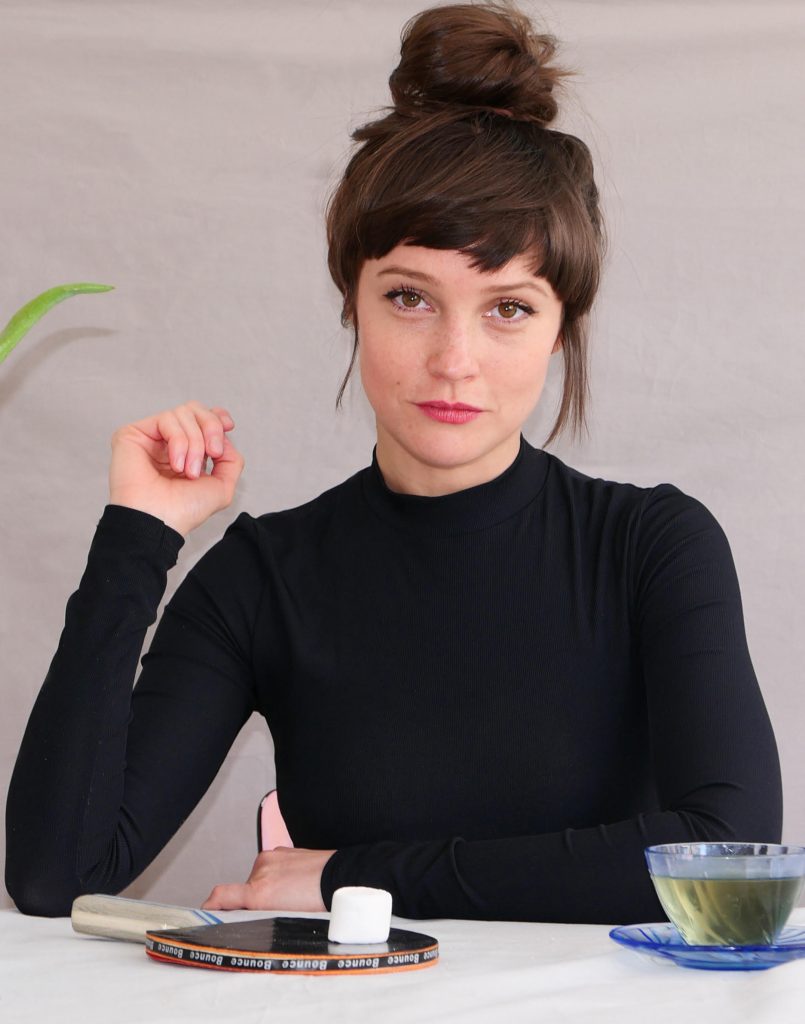 photo: Vera Rijks
WORK
Genevieve (1988, Scotland) studied at the Royal Conservatoire of Glasgow, Junior School followed by Birmingham Conservatoire for Bachelor of Music. She received a Masters in Composition at The Royal Conservatory of The Hague in 2013 and currently lives in Amsterdam, The Netherlands.
Her compositions have been performed internationally in a variety of concert halls and art galleries, to name a few, Concertgebouw, Muziekgebouw,  W139, Stedelijk (Amsterdam), La Fenice (Venice), Old Fruitmarket (Glasgow), Theatre Spektakel (Zurich) with, Ensemble Offspring (Sydney), BBC Scottish Symphony Orchestra (Glasgow), Camerata Royal Concertgebouw Orchestra (Amsterdam) and herself performing her compositions.
Genevieve is known to combine performance art/visual art with contemporary classical music and her concepts are frequently based around psychology, and disability. As well as an independent maker she has collaborated and performed with visual artists, free improvisers, choreographers and producers and has toured internationally with London based visual artist Martin Creed.
The composer's durational work 'Walk and Drip for 12 Hours' (2016) was performed by herself in the gallery W139 for 12 hours continuously. It was a compositional process that formed a score of 25 metres in length. The transcription of the score went on to be performed at the Cello Biennale (Amsterdam) and November Music ('s-Hertogenbosch), commissioned by Slagwerk Den Haag (October 2016).
Genevieve has had her work commissioned by Royal Concertgebouw Orchestra Camerata in multiple  performances with neuropsychologist, Professor Erik Scherder.
'Work 5' from the suite 'F.I.N.E.' was nominated for the International Rostrum of Composers under 30 category, to represent the Netherlands for it's contemporary classical music (2016).
Her composition 'Your Blue and My Purple' was performed in La Fenice Theatre in Venice, 2016, and in January 2017 Genevieve brought her work towards the south of the country in Eindhoven commissioned and performed by Storioni Trio for the Storioni Festival in collaboration with designer Lucas Maassen.
Genevieve has been a member of the Ulysses Network (2016/17) where she developed and performed a solo work in the gallery ESC, Graz (Austria) and composed for International Ensemble Modern Akademie, Frankfurt (Germany). The composer premiered the work, 'Squeeze Machine' for IEMA in Gaudeamus Muziekweek, Utrecht (Netherlands) followed by performances in Frankfurt in September 2017.
Murphy was invited to external examine for composition students graduating from the Royal Conservatory of The Hague 2016 and was a guest tutor in 21st Annual Percussion Workshop, TRSTENICE (Czech Republic) in July 2017.
In May 2017, Genevieve received the Nieuwe Makers Subsidie from FPK. This is a two year research and production grant that allows the new maker to be produced and coached by NB Projects/Nicole Beutler. Through this subsidy, Murphy produced a solo work featuring the composer herself. 'Something In This Universe' was premiered in SPRING Festival, Utrecht in May 2018.
Genevieve became a member of Standplaats Utrecht (2018), a performance/interdisciplinary platform supported by SPRING Performing Arts Festival, Het Huis Utrecht, Theater Utrecht, Het Filiaal, DOX and SWK030.
The composer-performer performed a new work "Calm In An Agitated World" with BBC Scottish Symphony Orchestra and BBC Radio 2 Young Folk Award piper, Brighde Chaimbeul, in Glasgow, Old Fruitmarket. 
"They Move Differently Here", commissioned by and premiered in Gaudeamus Muziekweek on September 7th in Utrecht, was performed by Australian group Ensemble Offspring alongside Genevieve. This work will make its way to Sydney in May 2023.
June 2019, Genevieve was awarded Honorary Membership of The Royal Birmingham Conservatoire nominated by composer Joe Cutler and received from Julian Lloyd Weber.
Between the end of 2019 and into 2020, the composer recomposed, performed and toured Mozart's "Toverfluit", and in 2021 she did similar with Humperdinck's "Hansel and Gretel", commissioned by Silbersee and De Toneelmakerij and premiered in International Theatre Amsterdam (ITA), NL.
2021 Genevieve composed the music for the series Follow De SOA which was produced by Fiction Valley for Videoland.
Genevieve has now made three productions titled "Something In This Universe" (2018), "I Don't Want To Be An Individual All On My Own" (2020) and "At The Spot Where I Find Myself" (2022). Each work is a solo, performed by Genevieve, giving insights into the artist's world and her perspective on emotional subjects such as empathy, obsessive compulsive disorder and indecision. Often creating a domestic setting Murphy addresses the "everyday", speaking to the individual through sound, text, physical performance and imagery.
Genevieve is currently touring her third production titled "At The Spot Where I Find Myself", produced by Stichting Rizoom and Nb Projects as well as composing a work for Netherlands Violin Competition and Sydney based ensemble Ensemble Offspring. From September 2022 to February 2023 the composer taught composition as a guest teacher at The Royal Conservatoire Of The Hague, The Netherlands as well as coaching performance and leading interdisciplinary workshops throughout Europe.
ABOUT THE ARTIST
"The Physical World Is Far More Dazzling Than This"
Tubes vomiting colour; machines taking the lead; blue foam leaking out of corners; an orchestra trapped in words: in the carefully composed works of Genevieve Murphy there is always space for the unleashing of control. In her worlds, in which an undue desire for control dominates throughout, these extremely satisfying releases are not just fun: the thrill that comes from releasing the strings that hold everything together is a vital necessity.
Coming from a musical background, a bagpipe player and talented composer, Murphy has been including performative elements in her compositions for as long as she can remember. She has assigned musicians to speak, asked them to read concentration tests as scores, composed live in galleries as well as playing recordings of her family. Now increasingly writing herself into the live concert as a performer, musician and writer, her personal experiences are a main subject for inspiration. Creating productions was then a logical step and in 2017 she was supported by a two- year development grant for emerging performance artists. In 2018 her first solo piece for theatre Something In This Universe (Is Missing) was created, followed by The One I Feed – ongoing research that currently manifests itself in a series of smaller performances where Murphy constantly develops the work.
Starting from a "blank canvas", rather than having a fixed form set by musicians allows Genevieve a broader approach to her work. She still takes on external concert music commissions but now uses them as a space into which she brings her own experiments. For example, They Move Differently Here for Ensemble Offspring (Sydney, Australia) Murphy uses recordings from a series of therapy sessions for arachnophobia. She built a spiderweb of tape that runs through reel to reel tape machines in order to play back the recordings live. Like flies or spiders the musicians sit in between the web, responding to the recordings. Her research from this work will feed into a second larger solo piece; I Don't Want To Be An Individual All On My Own, premiering in spring 2020.
For Genevieve sound and visuality are entangled matters and thus her "performance compositions" are both sonic and visual in which she appears as a slightly 'off' figure – speaking both disturbing, poetic and recognisable texts that offer 'as it were' slices of ones head, in order to show "what happens inside". The voice that "gives you advice from the air above your head" is a recurrent presence in which her characters relate, they want to feel the peak of reality, pushing themselves towards the edge, almost falling off…
Testing her own boundaries between personal life and work, she takes inspiration and material from her immediate environment and private experiences. For instance, her interest in people with OCD tendencies, or her autistic brother's coping mechanisms, she is fascinated by psychology and disability, observing similarities in human emotions and highlighting the differences between people who cope with those emotions. She doesn't answer questions, but brings to our awareness how we behave and respond. We all search for comfort but we do so in individual ways: "… absolutely every way that a world could possibly be, is the way that some world is." (David Lewis)
Written by Nienke Scholts